JUDICIAL SERVICES BUREAU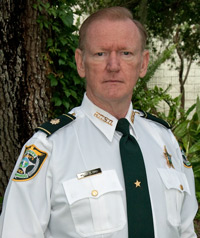 Judicial Services Bureau Commander Major Michael F. Page is a 42-year criminal justice veteran and is dual certified in corrections and law enforcement in Florida. He was employed by the Florida Department of Corrections for 28 years, working in adult prisons and community facilities, and serving as a Prison Inspector and Regional Supervisor, conducting and overseeing inspections, management reviews, and investigations of local and state detention facilities. In 2001 Major Page joined the Pasco County Sheriff's Office to serve as Detention Bureau Commander, overseeing the operation of the jail system and court services. After six years of service he semi-retired, serving the American Correctional Association as an auditor and working as a corrections consultant to various agencies.
In 2010, Major Page was recruited back to full-time public service when then-Sheriff Richard Nugent was asked by the Hernando County Commission to take over operations of the Hernando County jail after it had been privately run for some 22 years. Major Page was installed as part of the Sheriff's command staff to oversee operations of the Detention Center, Warrants Division, Courthouse Security, Bailiffs, and the Civil Process Section.
Major Page has an extensive background in corrections training and leadership with many organizations including the Florida Sheriff's Association, the Florida Corrections Accreditation Association, and the Florida Council on Crime and Delinquency. Under his leadership, the Hernando County Detention Center has achieved compliance with the Florida Model Jail Standards and is also accredited through the Florida Corrections Accreditation Commission (FCAC), the Prison Rape Elimination Act Commission (PREA), and the American Correctional Association.
Captain Harold J. Hutchinson, Jr. serves as Detention Administration Division Commander, which includes Booking, Classification, Court Security, Warrants, Civil, and Transportation. Captain Harold J. Hutchinson, Jr. has been with H.C.S.O. since January, 1994. Captain Hutchinson's prior assignments include Commander of both Patrol Districts, as well as the Commander of the Major Crimes Section, School Resource Officer Supervisor, District 2 Administrative Sergeant, SEU Supervisor, COPPS Supervisor, Patrol Sergeant, SWAT, CID and Patrol Deputy. Captain Hutchinson holds an Associate's Degree from Pasco Hernando Community College, and a Bachelor of Science degree from Hodges University.
Lieutenant Shaun Klucznik serves as the Detention Operations Commander, which includes Inmate Housing, Food Service, Accreditation, Detention Training, Maintenance, Visitation, and Inmate Programs. Lieutenant Klucznik is an 18 year veteran in the corrections field and is dual certified in corrections and law enforcement. He joined the Pasco Sheriff's Office in 1997 and was sponsored through Corrections Academy at PHCC. During his 13 years with the Pasco Sheriff's Office, he rose through the ranks of Deputy, Field Training Officer, Corporal, and Sergeant. Lieutenant Klucznik is a graduate of the American Jail Association's National Jail Leadership Command Academy. Lieutenant Klucznik is a Certified Jail Manager through the American Jail Association, a Certified Correctional Manager through the American Correctional Association, and a Department of Justice certified Prison Rape Elimination Act Inspector. Lieutenant Klucznik is also a C.J.S.T.C certified instructor. Lieutenant Klucznik holds an Associate's Degree in Criminal Justice from St. Petersburg College.
Medical Director Kristine DeKany is a Registered Nurse with 15+ years of correctional health care experience where she began her career as a Licensed Practical Nurse. She completed her Associate's Degree in nursing at Pasco-Hernando Community College in 2006 and her Bachelor of Science Degree with an emphasis in Management at Hodges University where she graduated Magna Cum Laude in 2008, and her Master's Degree in Health Science with an emphasis in Health Care Administration at Florida Gulf Coast University in 2011. Kristine has held a seat on the Florida Model Jail Standards (FMJS) Medical subcommittee for the past 10 years and has served as chair of this committee for the last 6 years. Kristine also serves on the FMJS Training Committee where she trains all the new Medical Inspectors in the state. She is also an FMJS Medical Services Inspector and a dual certified Correctional Nurse/Nurse Manager, achieving recognition as the first Certified Corrections Nurse in the State of Florida through the American Correctional Association in 2007.